We offer the most advanced, state-of-the-art diagnostic technology available.
Optomap Retinal Imaging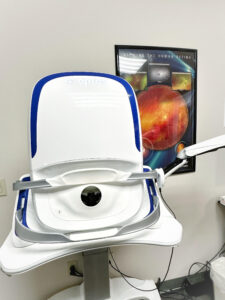 The optomap retinal exam is used by our doctors to get an ultra-wide view of the retina (the back of your eye).  While eye exams generally include a look at the front of the eye to evaluate health and prescription changes, a thorough screening of the retina is critical to verify that your eye is healthy. This can lead to early detection of common diseases, such as glaucoma, diabetes, macular degeneration, retinal detachments, and cancer. The exam is quick and painless!
The optomap story: In 1990, 5 year old Leif Anderson went blind in one eye due to an undiagnosed retinal detachment. He was getting regular eye exams, but conventional tests available at the time made a thorough examination difficult. Distressed by the diagnostic methods available, Leif's father, Douglas, designed the optomap Retinal Exam.
The optomap retinal exam is the most powerful tools in the world to diagnose, document, and monitor your retinal health.
Check out some Optomap Videos
Capital Vision Center always has the latest and greatest technology. This HD Optomap is the latest generation of the most popular retinal imaging instrument available. The same instrument the retinal specialists have!
The optomap is offered to EVERY PATIENT for their comprehensive exam to diagnose and monitor ocular conditions such as glaucoma or macular degeneration.
Digital Phoropters
Since the introduction of electronic phoropters, these phoropters have had more functionality, accuracy, power, and more success than any other computerized refractor.
Improved test and target design
Intelligent cross cylinder
Multiple testing modes
Multiple distance and near tests
Ultra HD Optics
Capital Vision Center always has the latest and greatest technology. We have a computerized phoropters in ALL of the exam rooms to ensure the most accurate prescription for your glasses.
Humphrey Visual Field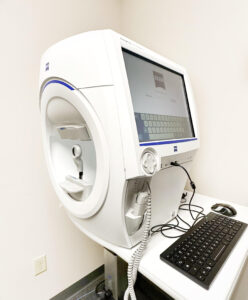 This is a test of peripheral vision that is painless and takes about 10 minutes.
The test is done with an instrument called a Humphrey visual field analyzer. The field test is done sitting down with one eye covered and a lens in front of your eye if you normally wear glasses. Small dots of light will then flash inside  and you will press a button each time you see a light.
The instrument will test spots again if it thinks you should have seen them. This is a test of your eye, not you, and you must not worry about whether you have missed a spot. If you remain calm and just press the button when you see a light the test will be over in no time.
Optovue Optical Coherence Tomography (OCT)

Optical coherence tomography (OCT) is a non-invasive imaging test that uses light waves to take cross-section pictures of your retina, the light-sensitive tissue lining the back of the eye. With OCT, each of the retina's distinctive layers can be seen, allowing your Optometrist to map and measure their thickness. These measurements help with diagnosis and provide treatment guidance for glaucoma and retinal diseases, such as age-related macular degeneration and diabetic eye disease.
The OCT anterior segment function also provides valuable information for contact lens fittings and any problems with the front surface of your eye.
Capital Vision Center utilizes this technology to diagnose, document, and monitor your ocular health. Our doctors go over every image and 3d rendering of your eyes to ensure detailed monitoring of any ocular condition.
Anterior Segment Imaging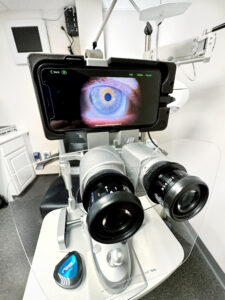 Capital Vision Center has implemented the latest and greatest technology to provide the best patient care there is. With our anterior segment imaging systems we are able to provide digital imaging of any ocular condition on the front surface of the eye integrated seamlessly with our EHR. We utilize this technology diagnose, document, and monitor ocular health.
These imaging systems are available in all exam rooms for every patient.
Digital Non-Contact Tonometry (NCT)
Testing your eye pressure is a very important part of your eye exam. This new digital tonometry test offers the smallest puff of air ever in a tonometry test (advanced auto puff control). Many patients do not even feel it.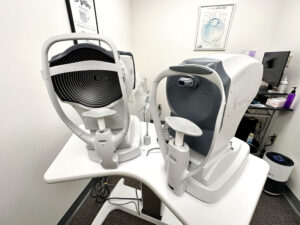 This instrument offers 3D auto tracking, auto shoot, and noise reduction.
We also have alternative methods of taking eye pressure such as iCare tonometry for certain patients.
OPD-Scan III Wavefront Aberrometer
This instrument is a true all in one instrument for measuring the anatomy of your eyes digitally. The OPDIII is an autorefractor, keratometer, pupillometer, corneal topographer, and integrated wavefront aberrometer all in one. It also takes 20 diagnostic metrics in all less than 5 seconds per eye. This instrument is digitally integrated into your health record to analyze your ocular health.
Our doctors are fully trained and certified to utilize this new technology to create the best possible prescription for every patient.
We have this instrument in all of our pretesting rooms.
Frequency Doubling Mini-Visual Field (FDT)
This mini-visual field test gives a quick determination of the areas of your vision that are working correctly. The test is quick and easy. All you have to do is click a button if you see a wavy line inside of the instrument. Utilizing this technology allows the doctors to ensure the best care for each and every patient.
Professional Electronic Blood Pressure Monitors
Did you know that there are thousands of tiny blood vessels in your eyes? Taking an accurate blood pressure on each patient is important for every eye exam.
Capital Vision Center has multiple medical grade digital blood pressure monitors that every patient will use to monitor their ocular and systemic health.
Visioffice/MyEyeFit Mirror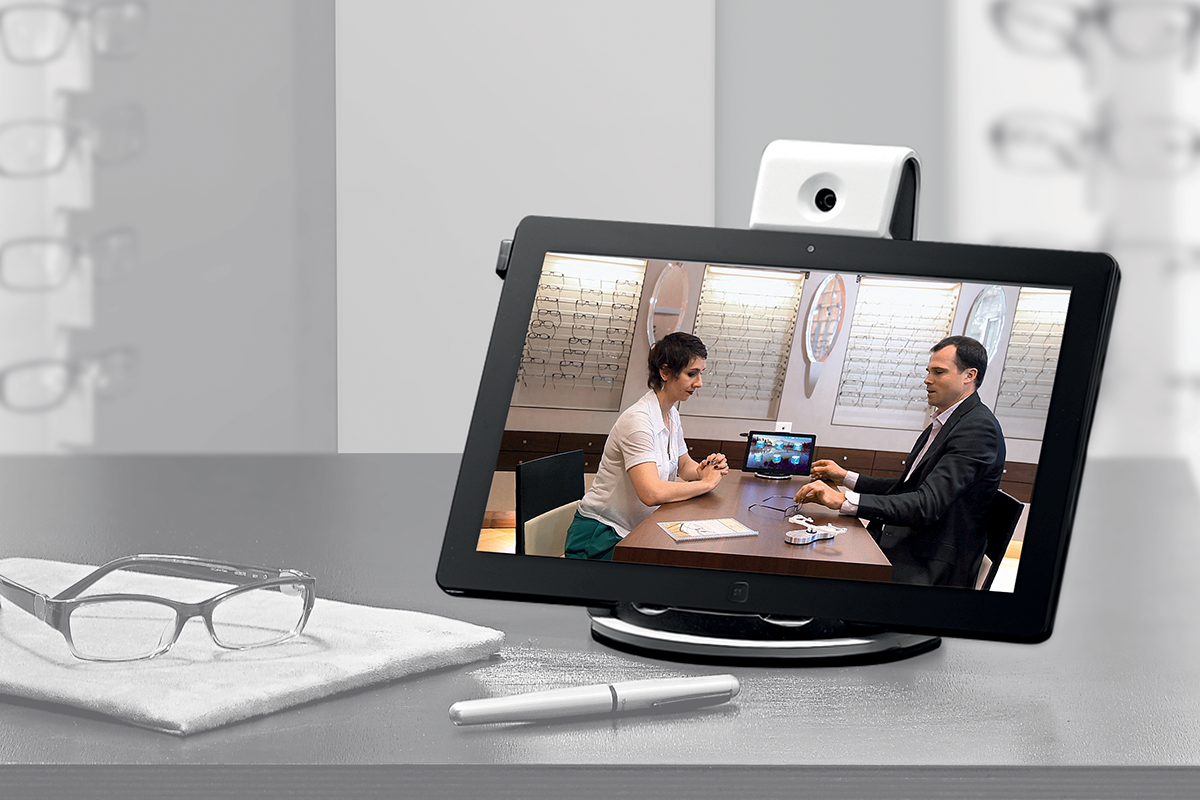 Over the last 50 years, the technology behind ophthalmic lens designs has greatly improved.
Yet the way we fit and measure patients' lenses has remained virtually the same. To get the full benefit of modern lens designs, it is necessary to go beyond the traditional measurements of PD and fitting heights. Your lenses are personalized based on exactly how your glasses sit on your face, the placement of your pupils, and where your eyes line up in the frame.
Capital Vision Center has added this technology to the optical department to aid in providing the best possible placement of each lens to give the greatest possible vision for each and every patient. Without proper measurements from the certified opticians at Capital Vision Center, your glasses will never be able to correct 100% of your prescription.
In-Office Optical Technology
Capital Vision Center is always trying to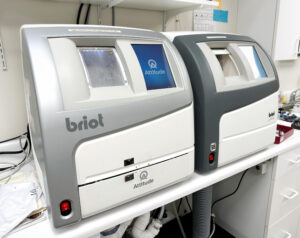 utilize the newest technology when creating custom eyeware specific to each patient. We have state of the art measuring devices, lens tinting technology, and an in-office lens edger that can add patient specific prescriptions into any frame they choose. This gives us the ability to create same day glasses for many patients.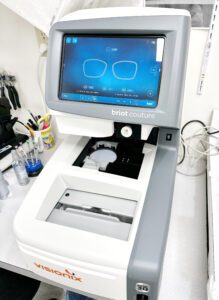 To achieve the best optical performance from your glasses, exact measurements must be taken by our certified opticians in order to utilize 100% of your prescription. Glasses are not "one size fits all" and each pair is made custom to for every patient to ensure best vision through them. Stop by our office today to check out our inventory of over 2000 frames.
Automated Lensometers
We have many automated and manual lensometers through out the office to help identify any prescription on glasses that patients may bring in. This allows us to let every patient know if there Rx has changed no matter how old the glasses are.
Extended Color Vision Testing
Patients may experience color vision changes, genetic or disease related, that needs to be diagnosed and tracked.
This test is approved by the Surgeon General as the Gold Standard for color vision testing for the US Air Force pilots, United States military forces, and medical examinations for color vision. Cone sensitivity threshold testing is vital to accurately detect shifts in color vision that may indicate the onset of eye disease that was missed by all other equipment. Backed by 15 years of rigorous studies, this is one of the only tests with the accuracy to detect and track color vision deficiency.
Some occupations, institutions, and medical exams also require extended color vision testing. We can provide this to any patient in need of the test and will provide an official printout of the results to meet your color vision requirements.
We also provide prescription and non prescription Color Vision Glasses for patients that have color vision deficiency!
Dry Eye Procedure Devices
We have many devices for Dry eye and chronic ocular irritation that can help to improve the signs and symptoms of dry eye disease. Be sure to ask about these procedures. Our doctors are expertly trained with these devices to help patients alleviate their symptoms. Many patients have had amazing results from these procedures and have reduced their need for artificial tears and other dry eye therapies!